The Fitness Center has a complete line of cardiovascular, free-weights, and strength machines for a safe and effective exercise routine. The most modern exercise systems have been incorporated to optimize your time and workout efficiency.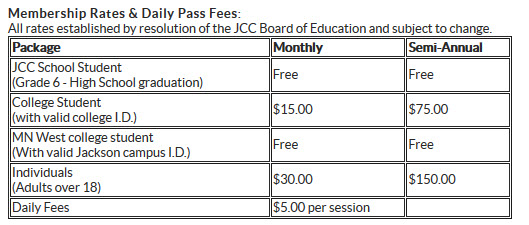 The schedule will be posted at the fitness center. When school is in session the schedule for public usage will be 6:30-8:00 a.m. 11:30-1:00 p.m. & 4:30-9:00 p.m. Monday-Friday. Summer hours will be 6-8 p.m. Monday-Thursday. The Fitness Center will follow the same weather policy as the rest of the building. Entrance key cards will be issued to adults 21 and older, with 6 month memberships. A lost card will cost $10 to replace.
Parents cannot bring children to the school facility while they are using the fitness center, unless they have a scheduled supervised event in the building. They cannot be left unattended – thank you!

Call 507-847-6627 for more information.