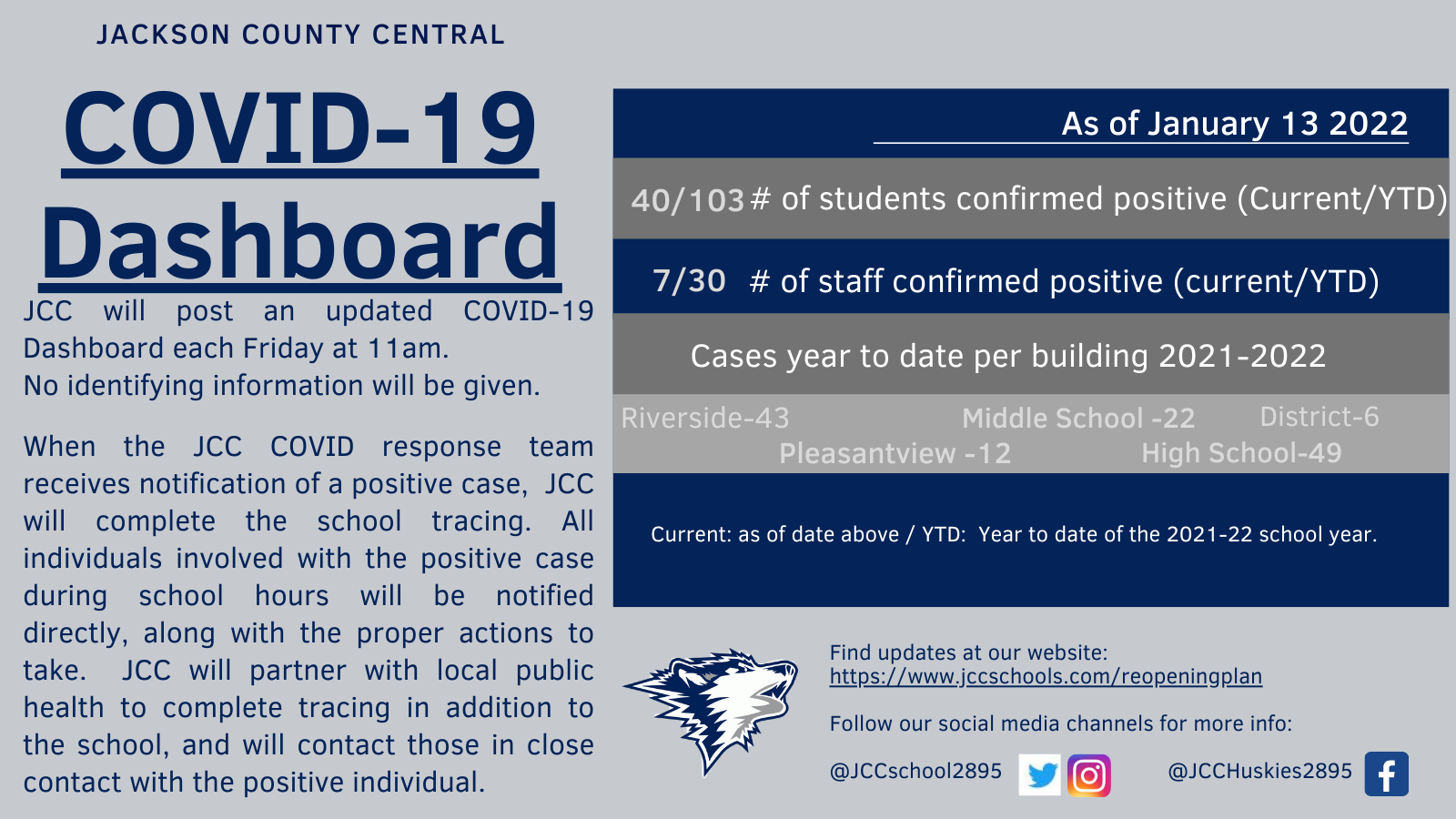 Jackson County School District was able to recieve BinaxNOW COVID-19 Antigen self-testing kits for our students to access free of charge. The test is completed at home with rapid results without the need to ship samples to a lab or for a prescription from your healthcare provider. We are not allowed to administer the test at school. If anyone in your home is positive or if your students are showing signs or symptoms of COVID-19, please keep your students home and email alyssa.anderson@jccschools.net for more information and to request a test kit.
Jackson County Central also has Vault PCR tests available for staff and students, this test does require to be completed at home via a zoom appointment, free of charge, but is required to be mailed to the testing lab by the school district. Due to the process of mailing the tests back, these tests will be available for pick up at any building, on Tuesdays of every week, and need to be returned the following day (Wednesday) to the JCC High School office by 3pm to be shipped out. The school will pay for the shipping. All results are emailed directly to the individual and JCC does not receive any test results.

Our goal is to keep in-person school going all year. This is an important mission. Our biggest challenge in meeting that goal will be if the COVID-19 virus spreads in our schools and we do not have staff to manage a normal school day. Let us all do what we can to slow the spread for the benefit of all our staff, students, and families.
UPCOMING EVENTS / GAMES/ TOURNAMENTS IN MINNEAPOLIS AND ST. PAUL
Boys and Girls Varsity Basketball
January 29, 2022
Target Center (Minneapolis)
As of now, we are planning to play both the girls' and boys' varsity basketball games at Target Center on Saturday, January 29th with the girls' game beginning at 2:00 p.m. with the boys' game to follow.
Players, Spectators, and Coaches WILL NOT have to show proof of Covid-19 vaccination or have a negative test within 72 hours of attending. This will not be in effect for our games on the 29th.
Target Center does have a mask mandate for fans unless eating and drinking (non-alcohol). No concessions will be sold during the times we are playing. Target Center will allow spectators to bring in food and beverages if they wish. You will not be required to wear masks while eating or drinking.
Players and coaches need to wear masks while entering Target Center, however players and the head coach will not be required to wear masks while coaching. Assistant coaches are encouraged to wear masks while the game is in progress, but are not required to do so.
Regarding one of six future Timberwolves games that spectators can choose to go to with the purchase of the $20.00 ticket, Target Center encourages people to choose a game on the list that's as late as possible in hopes the Covid-19 protocols will ease later this winter. Currently, if you were to attend a game after January 29th, you would have to show a vaccination card or show proof of a negative test within 72 hours of attending a game. Management at Target Center is hopeful this may not be in effect later in the season.
Tickets must be purchased online by this Sunday, January 23rd by 11:59 p.m. in order for us to get an accurate count of who will be attending. If between now and the 29th the game is canceled , all purchases will be refunded.
State Competitive Cheerleading
All State Cheerleading
January 29, 2022
Roy Wilkins Auditorium (St. Paul)
The St. Paul mandates do effect our event.
All in attendance will be required to wear a mask except the athletes when they are warming up or competing. This is the same as last year.
All Athletes, Coaches, Managers, registered Parent Chaperones, event workers, officials, vendors are EXEMPT from showing proof of vaccination or a negative COVID test taken no more than 72 hours prior.
All spectators 5 and older will need to show proof of vaccination or a negative COVID test taken no more than 72 hours prior.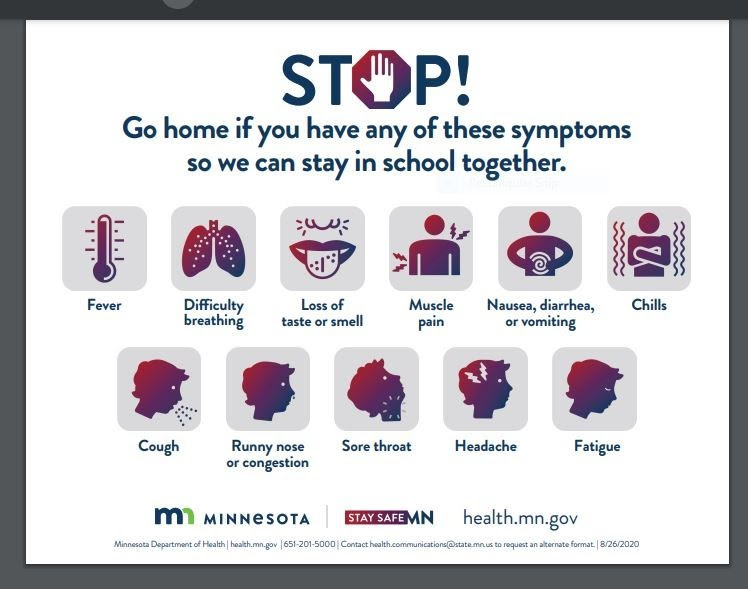 If someone in your home has COVID-19:
Stay home and away from others for 14 days.
When you live with someone who has COVID-19, you should quarantine during the time they might be contagious (their isolation period), as well as the time you could develop COVID-19. This may mean you need to quarantine for 24 days or more.
Your 14-day quarantine period starts the day after the person you live with completes their isolation period.
This is usually:
10 days from the day their symptoms started.

If they didn't have symptoms, 10 days from the day they got tested.
If multiple people in your home have COVID-19, your 14-day quarantine period starts after the last person has completed their isolation.
How long to stay home provides more information about isolation for people who have COVID-19.
Regarding the CDC quarantine guidelines:
https://www.health.state.mn.us/diseases/coronavirus/close.html